Hoteliers choice To Simplify Their Hotel Management Needs
A Trusted Management Software to Boost your Hotel Business.
Start Now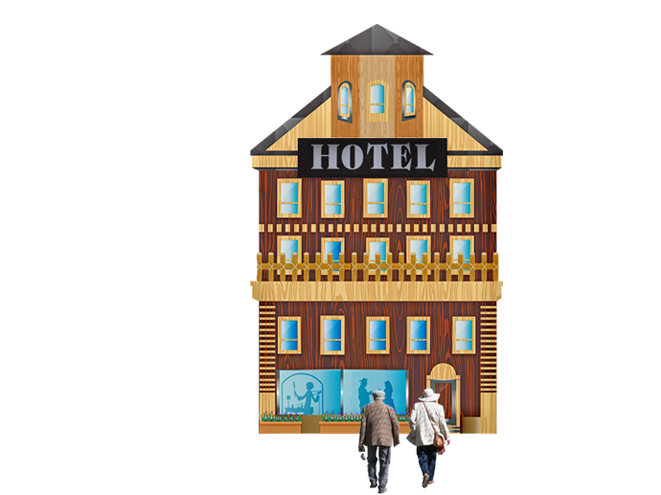 Account Mitra NIVHS Serves you..
The important modules included in this software are
Front Office Management
The front office management module of Account Mitra NivHMS software has a touch screen graphical user interface containing room reservation, check-in, check-out, billing, housekeeping, etc.. Also, the front office staff can easily identify the room status from this module.
Laundry Management & Billing System
The laundry management module of Account Mitra NivHMS software manage details of laundry, launder, and the payment details. This software will have a register of cloths send to the launder for cleaning and the corresponding billing details.
Banquets & Event Management System
A module to automate the planning and hoisting of different functions. Banquet hall booking and billing are the key features included. Ease of handling and corresponding report generation make this software more functional.
Stock Control & Inventory Management
Integrated with billing, purchase, and sales; the stock control and inventory management module provide an up-to-date list of goods and materials in stock. The report generated will contain the list of items to be purchased/out-of-stock.
Payroll & Personnel Management
The payroll module allows you to track and manage all the staff/employee time attendance, schedule, leaves, and other activities. With this Account Mitra NivHMS software, you can calculate the monthly salary of each employee accurately by creating different pay heads.
Finance Management
The finance management module handles the functions of materials management, food & beverage costing and back office accounting. Account Mitra NivHMS follows the Universal System of Hotel Accounting Policy with advanced reports.
CRS (Central Reservation System)
CRS module computerizes the reservation process by providing hotel room rates and availability to third party websites. Reservation confirmation is provided through SMS or email to the customer and advance payment will be received.
Sales & Marketing
The Account Mitra NivHMS software help to improve the hotel revenue by providing details to organize marketing campaigns and promotion works. Inventory, customer and account information, room availability and rates, etc are shared with this module.
Direct Messaging System (SMS)
Integrated with third-party service providers, Account Mitra NivHMS can send instant notifications and promotional SMS to the customers. Bulk SMS can be sent to a number of recipients for passing information related to events or offers.
Customer Information System (CIS)
It is important to maintain the privacy of customer details. The CIS module of Account Mitra NivHMS software enables the user to take better care of their customers by securing the information from third-party threads.
Intranet Mail Options
Intranet mail options provide a medium to communicate between different departments of the hotel effectively. This module uses a fully multi-threaded email server and anti-spam system with POP / SMTP plus a web interface.
Housekeeping Management
Housekeeping management module helps to carry out day-to-day operations easily and accurately. This user-friendly module improves staff productivity, guest satisfaction and timely completion of hotel maintenance works.
Restaurant Management System
The restaurant Management module of Account Mitra NivHMS carry out functions like order receiving and production of items. Stock consumption and order reports can be generated using this hotel management software.
Bar & Beverages Management System
Not all guests of your hotel will require bar and beverage facility. This module will provide accurate and updated information based on these user-specific requirements.
Food-Cost & Yield Management System
The yield management module is a crucial part of restaurant pricing strategy. It provides the details regarding the amount of raw materials used for food production and the corresponding expense on that.
Management Information System (MIS)
All the management activities of your hotel business can be maintained effectively and accurately with this software. This hotel management software will store guest history, employee history and will generate various financial and non-financial reports.
Web Based Reservation System (e-RMS)
Web-based reservation allows your guests to book their room/banquet hall within minutes using any type of device. Guests can pay advance online and will get a confirmation SMS or email.
Touch Screen Interface
The touch screen interface provided in the Account Mitra NivHMS software will accelerate the tasks of different departments like the restaurant, front office, etc.. This feature can be deployed on any type of hotels having a system that supports touch screen interface.
RFID / Bio-Metric Integration
RFID / Biometric identification is appropriate for places where a lot of customers, members or visitors enters. This feature will help for faster check-ins and improved security.